---
---
DOI: https://doi.org/10.33096/ilkom
ILKOM Jurnal Ilmiah is an Indonesian scientific journal published by the Department of Information Technology, Faculty of Computer Science, Universitas Muslim Indonesia. ILKOM Jurnal Ilmiah covers all aspects of the latest outstanding research and developments in the field of Computer science, including Artificial intelligence, Data science, Databases, Computer performance analysis, Computer security and cryptography, Computer networks, Parallel and distributed systems, Microcontroller, Internet of Things, Software engineering.
ILKOM Jurnal Ilmiah is issued three times a year in April, August, and December. Each article submitted to ILKOM Jurnal Ilmiah will be peer-reviewed, and articles stated worthy of publication by the reviewer and editor will be published in ILKOM Jurnal Ilmiah.
ILKOM Jurnal Ilmiah indexed by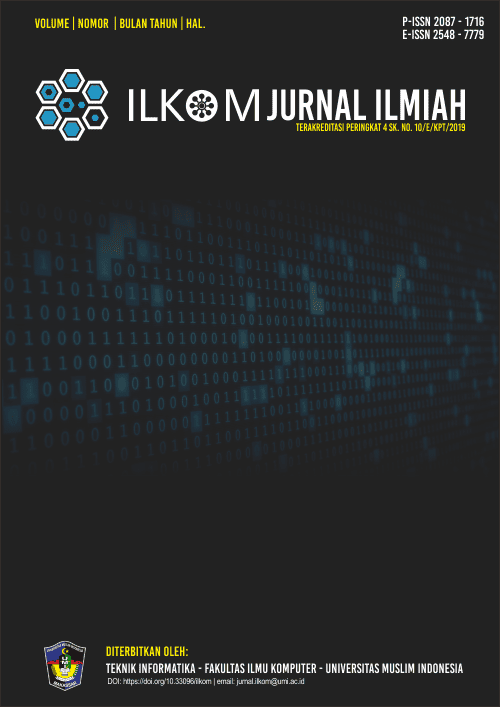 AWARDED SINTA 3 ACCREDITATION
GUIDELINES FOR WRITING MANUSCRIPT
The manuscript is written in Indonesian language excluding Abstract which should be written both in Indonesian and English.

Manuscript is prepared using Ms. Word, Arial font, single line spacing for  1-column A4 sized paper  with margin of top, left, right, and bottom are 2 cm, 3 cm, 2 cm, and 2 cm consecutively, Read more ---> (NEW) DOWNLOAD TEMPLATE 2020.

Abstract is written in Indonesian and English. The length should not exceed 150 words with maximum keywords of 5.

Number of pages is 8 pages, for excessed pages will be charged IDR. 100.000,- /page.

MENDELEY with IEEE style is recommended for reference Management. Read more --->> DOWNLOAD MENDELEY TUTORIAL

The manuscript must be original and has not been previously published neither submitted to another journal for consideration evidenced by the copyright transfer agreement form. Download Copyright Transfer Agreement Form.

The manuscript must be conformed to the rules on the use of punctuation and spelling contained within the guidelines of Indonesian Language Spelling.

The manuscript submission to ILKOM Jurnal Ilmiah must be through jurnal.fikom.umi.ac.id.

Authors must fill out the Telephone/Mobile phone number in order to facilitate the communication process between the organizer of the journal and author.
Number OF ARTICLES for each PUBLISHING
ILKOM Jurnal Ilmiah issues 5- 20 articles for each publication.
Announcements
Sinta 3 accreditation

Congratulations

ILKOM has been awarded Sinta 3 accreditation, read more

Posted: 2019-11-17
Vol 11, No 3 (2019)
Table of Contents
| | | |
| --- | --- | --- |
| | Erikson Marbun, Seng Hansun | 175-183 |
| | | |
| --- | --- | --- |
| | Citra Suardi, Aji Prasetya Wibawa, Tasrif Hasanuddin, Muhammad Aliyazid Mude, Sugiarto Cokrowibowo | 184-190 |
| | | |
| --- | --- | --- |
| | Annahl Riadi, Ruhmi Sulaehani | 200-205 |
| | | |
| --- | --- | --- |
| | Yessy Yanitasari, Dedih Dedih, Undang Mustofa | 206-213 |
| | | |
| --- | --- | --- |
| | Pahrul Irfan, Kartarina Kartarina, Cristofer Satria | 214-221 |
| | | |
| --- | --- | --- |
| | Sarwo Budi, Arif Budimansyah Purba, Jajang Mulyana | 222-230 |
| | | |
| --- | --- | --- |
| | Ahmad Mubarok, Djaja Sukma Tjahjadi | 231-240 |
| | | |
| --- | --- | --- |
| | Baibul Tujni, Firamon Syakti | 241-251 |
| | | |
| --- | --- | --- |
| | Suhardi Rustam, Haditsah Annur | 260-268 |
| | | |
| --- | --- | --- |
| | Mus Mulyadi Baharuddin, Huzain Azis, Tasrif Hasanuddin | 269-274 |