---
Focus and Scope, ILKOM Jurnal Ilmiah encompasses all aspects of the latest outstanding research and developments in the field of Computer science including:
Artificial intelligence, 
Data science,
Databases, 
Computer performance analysis,
Computer security and cryptography,
Computer networks,
Parallel and distributed systems,
Microcontroller,
Internet of Things, 
Software engineering.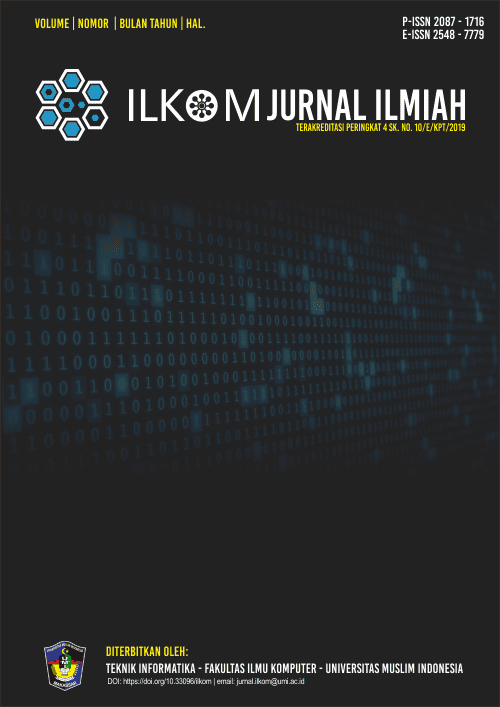 Before Submission,
You have to make sure that your paper is prepared using the 
paper TEMPLATE, has been carefully proofread and polished, and conformed to the author gudelines. 
The Journal invites original articles and not simultaneously submitted to another journal or conference. Make sure you have read and understand the 
ethics of publication
 for authors.
Online Submissions

Registration and login are required to submit items online and to check the status of current submissions.
Announcements
Daftar artikel perlu direvisi segera

Berikut Daftar artikel yg telah direview. Kami mohon para penulis untuk segera merevisi dan mengirimkan kembali ke Jurnal Ilkom paling lambat 1 minggu dari sekarang (31 Maret 2023) utk dapat sgera kami proses lebih lanjut. Jika artikel tersebut tdak di revisi dan tdk dikembalikan sampai batas waktu tersebut diatas, maka artikel akan kami decline/reject.  Demikian informasi ini kami sampaikan. Atas perhatian para author kami ucapkan terimaksih. Wassalam.

Link cek daftar artikel --> Unduh

Posted: 2023-03-24
More...

Article reject/decline

Bismillahirrahmanirrahiim.


Bapak/ibu Author sekalian. Berikut kami sampaikan daftar artikel yg kami reject/decline karena beberapa hal berikut:
1. Author tidak melakukan revisi setelah di review oleh reviewer dalam kurun waktu 1 (satu) tahun.
2. Editor telah mengirimkan email konfirmasi agar melakukan proses revisi tapi tdak ada balasan dari para author.

Perlu kami sampaikan juga bahwa, setelah kami 'reject/decline' artikel tersebut tdak akan kami proses lgi utk diterbitkan.
Demikian kami sampaikan, Terimakasih.

Link cek daftar artikel reject/decline --> Unduh

Posted: 2023-03-24
More...

Daftar Artikel yang akan dipublikasi Vol. 14 No. 3

Bismillah..


Salam para Author ILKOM sekalian.
Berikut daftar nama artikel yang telah masuk proses In-Editing dan akan terbit pada Vol.14, No. 3, December 2022. LoA telah dikirimkan kepada masing-masing author melalui Email yang tercantum. Berikut link daftar nama penulis:

 

 

Pembayaran ditunggu hingga tanggal 8 Desember 2022 untuk diproses lebih lanjut. (CP: Info dan Konfirmasi Pembayaran Ibu Risma 0852-0515-7383). Pembayaran yang dilakukan melewati batas tersebut diatas akan dikenakan tambahan denda sebesar 25% dari biaya publikasi yang tercantum dalam tagihan dan artikelnya tetap terbit sesuai volume dengan status watermark "Retraction". Watermark "Retraction" akan dicabut setelah author melakukan pembayaran.

 

Demikian informasi ini kami sampaikan. Terimakasih.

 

Posted: 2022-12-02
Vol 15, No 1 (2023)
The author's countries are coming from Indonesia, Australia, Palestine, Saudi Arabia
Table of Contents
Artikel
Sentiment analysis and classification of Forest Fires in Indonesia

Indra Irawanto

(1)

; Cynthia Widodo

(2)

; Atin Hasanah

(3)

; Prema Adhitya Dharma Kusumah

(4)

; Kusirini Kusrini

(5*)

; Kusnawi Kusnawi

(6)

(1)&nbspAMIKOM Yogyakarta of University

(2)&nbspAMIKOM Yogyakarta of University

(3)&nbspAMIKOM Yogyakarta of University

(4)&nbspAMIKOM Yogyakarta of University

(5)&nbspAMIKOM Yogyakarta of University

(6)&nbspAMIKOM Yogyakarta of University

(*) Corresponding Author


10.33096/ilkom.v15i1.1337.175-185 Abstract view: 56 times

175-185